The second phase of the National Convention and Exhibition Center (Tianjin), constructed by China Construction Eighth Engineering Division Corp., Ltd and with the involvement of China State Decoration Group Company Limited and China Construction Industrial & Energy Engineering Group Co., Ltd., has successfully completed its joint inspection and hosted its inaugural exhibition. This signifies the comprehensive delivery and utilization of the National Convention and Exhibition Center (Tianjin) project.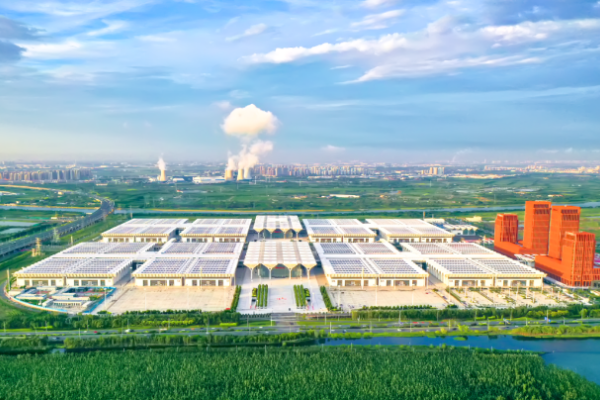 National Convention and Exhibition Center (Tianjin) [Photo/sasac.gov.cn]
Spanning a total floor area of about 1.38 million square meters, this project integrates exhibition, conference, commercial, office, and hotel functions. As the largest exhibition complex in northern China, its will serve as a hallmark in the coordinated development of the Beijing-Tianjin-Hebei region and in the relocation of non-capital functions from Beijing. The facility is committed to establishing itself as a globally leading green, intelligent, and innovative exhibition complex.
The project features over 100 well-equipped conference rooms of varying sizes and functionalities. Compared to the first phase of the project, the second phase has expanded the central hall to accommodate the National Convention and Exhibition Center and its accompanying facilities, totaling approximately 35,000 square meters. The grand conference hall, boasting an interior height of nearly 12 meters, can host more than 2,000 attendees.
The National Convention and Exhibition Center (Tianjin) is situated within a 736-square-kilometer ecological area in Tianjin, and is surrounded by lush forests. Highlighting green, intelligent, and innovative features, the project is characterized by the exclusive use of prefabricated steel structures, and the utilization of over a hundred low-carbon, energy-efficient, and eco-friendly technologies, including solar photovoltaic panels and ground-source heat pumps. This has resulted in an eight percent reduction in overall energy consumption compared to conventional exhibition projects and a remarkable 25 percent reduction in carbon emissions compared to other structures.
Outside the exhibition hall, the project team has cultivated a multi-tiered green belt comprising various vegetation types such as trees, shrubs, vines, and grass, and can utilize visual programming and BIM technology to optimize the arrangement of plants. Based on simulated lighting conditions throughout the year, the team adjusted the planting season and location of trees accordingly. Over 5,300 trees of 65 different species are scattered throughout various areas of the site, connecting the evergreen exhibition hall with Tianjin's ecological buffer zone, showcasing the new urban image of Tianjin.
In addition, the exhibition center capitalizes on an array of digital technologies, including the Internet of Things, big data, and BIM, and has pioneered the comprehensive fusion of smart exhibition facilities, business digitalization, and experience intelligence. Through intelligent innovation, the project aims to create a high-standard smart exhibition hall, a benchmark for specialized international expos, and a new convergence of services and exhibitions.
(Executive editor: Xie Yunxiao)