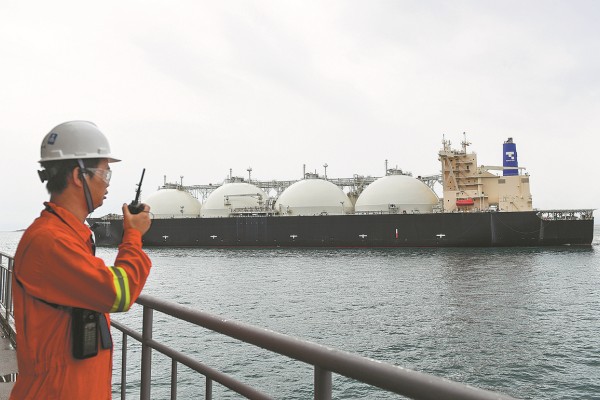 An employee guides a liquefied natural gas carrier arriving at a receiving station in Shenzhen, Guangdong province, on Sept 7. [Photo/XINHUA]
SOEs seal long-term contracts for key fuel, ensuring supply despite volatile market
China has been stepping up its natural gas purchases as well as facilitating construction in recent years, as part of efforts to ensure sufficient energy supply amid its green transition, said industry experts.
The country is looking to sign more deals to avoid future shortages and reduce dependence on spot deliveries, with 33 percent of global long-term liquefied natural gas volumes going to China, according to Bloomberg's calculations.
China is on track to become the top importer of LNG worldwide in 2023, as Chinese companies agree to buy more on a long-term basis than any single nation for the third straight year, data compiled by Bloomberg reveal.
An analyst said as China heavily depends on imports for natural gas, the country must diversify its imports among various countries as a cushion against geopolitical disruptions and uncertainties.
"Energy security has always been a priority for China, as the country is making efforts to avoid energy shortages while seeking to fuel economic growth," said Luo Zuoxian, head of intelligence and research at the Sinopec Economics and Development Research Institute.
China's natural gas consumption rose steadily in the first seven months of 2023 amid efforts to achieve green development, with apparent consumption of natural gas during the January-July period standing at 227.1 billion cubic meters, up 6.5 percent year-on-year, according to the National Development and Reform Commission.
In July alone, apparent consumption of natural gas increased 9.6 percent year-on-year to 32.49 bcm, data from the country's top economic regulator showed.
According to Luo, State-owned enterprises have played a key role in ensuring sufficient natural gas supply in recent years.
State-owned China National Petroleum Corp recently sealed a 27-year deal with Qatar with a stake in the latter's massive expansion project, while ENN Energy Holdings also inked a decades-spanning contract with US developer Cheniere Energy. Supplies from both contracts are slated to begin as soon as 2026.
Companies including CNOOC, Zhejiang Provincial Energy Group and Beijing Gas Group are also in search of similar deals.
As Chinese companies are signing more contracts, they are gaining more control over the global LNG supply, with China playing a key role in balancing the market, Luo said.
According to Li Ziyue, an analyst at BloombergNEF, long-term contracts, with a relatively steady price compared to the spot market, help China to secure LNG supply in an increasingly volatile gas market, with large fluctuations in spot prices.
China's efforts will, in turn, help support global export projects, while Beijing's influence on the market is also set to increase, she said.
China's LNG imports could rise to as high as 138 million metric tons by 2033, nearly double the current levels, according to Norwegian consultancy Rystad Energy.
Alexei Miller, chief executive officer of Russian gas giant Gazprom, was quoted by Reuters as saying that the company accounts for more than half the increase in China's gas imports this year, without providing figures.
The Chinese gas market is growing. China's gas imports increased over the first eight months of this year and more than half of the increase in the supplies imported to the Chinese market was provided by Gazprom, he said.
Russia supplies gas to China via the Power of Siberia pipeline. Exports through the route reached 15 bcm last year, with a planned rise to 22 bcm in 2023, according to the company.
Experts predict that China's natural gas consumption will peak before 2035 and account for 10 percent of energy consumption by 2060, primarily used for power generation and peak load regulation.
China's natural gas consumption is expected to exceed 600 bcm around 2035, constituting 15 percent of the primary energy consumption, said Huang Weihe, an academician at the Chinese Academy of Engineering.
According to Huang, China will focus on power generation and industrial fuels before 2040 for the development of natural gas, to facilitate the transformation and upgrading of industrial and energy structures.
"The ongoing urbanization process in China is among the primary drivers behind the sustained growth in urban natural gas consumption," he said.
"As China's urbanization accelerates, the urban population continues to expand, leading to an increase in the number of gas consumers, which rose to approximately 413 million by 2020, a growth rate of nearly 45 percent compared with 2013."
By reducing dependence on fossil fuels, increasing the share of nonfossil energy sources and promoting the development and application of natural gas, China can achieve a transformation and upgrade of its energy structure. This will help lower carbon emissions, drive sustainable development, and provide a stable and reliable energy supply for economic growth, he said.
An LNG carrier receives a water cannon salute upon reaching a gas facility in Shenzhen on Sept 7. [WANG XIAOKE/FOR CHINA DAILY]