With the departure of the first group of light rail trains from Kiryat Arye Railway Station and Bat Yam Station, the Israel Tel Aviv Light Rail Red Line project, constructed and operated by the China Civil Engineering Construction Corporation, a subsidiary of China Railway Construction Corporation Limited, is now open for service.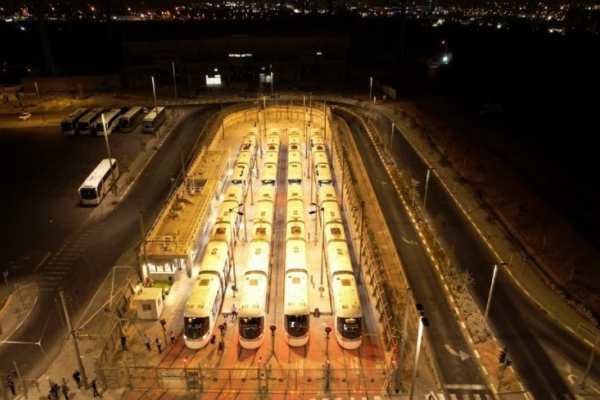 Light rail trains are ready to depart the station. [Photo/sasac.gov.cn]
Tel Aviv and its surrounding areas are the economic center of Israel, and have a large population and suffer from serious traffic congestion. The project is the first light rail project undertaken by a Chinese enterprise in a developed country. It is a double Europe standard project in terms of design and construction and is also Tel Aviv's first light rail route in its metropolitan area's mass transit system.
The China Civil Engineering Construction Corporation participated in the construction of the civil works for the eastern section of the project and several station projects. Additionally, it partnered with Shenzhen Metro and local Israeli firms to undertake the 14-year operation and maintenance cession for the Red Line.
The Red Line is 24 kilometers long, with a total of 34 stations along the line, including 24 ground stations and 10 underground stations. It connects five municipalities and 53 busy level crossings, with an estimated daily passenger flow of 250,000. This project is a government infrastructure project with the largest investment scale and is the most technically challenging in Israel since its establishment.
The opening of the Red Line will significantly improve people's travel efficiency, diversify transportation options, and further facilitate the movement of people and commerce between local urban areas, promoting connectivity between Tel Aviv and its surrounding regions.
During the preparatory period for the operation and maintenance of the Red Line light rail, the China Civil Engineering Construction Corporation and its partners actively provided operational and maintenance technical support, conducted extensive personnel recruitment and training, and shared their technical expertise and experience. They also promoted local employment, employing approximately 500 workers from various professions in the local area. In addition, they have successfully trained a professional workforce of nearly 300 people for the line's maintenance company, including dispatchers, drivers, station personnel, and maintenance staff.
(Executive editor: Xie Yunxiao)