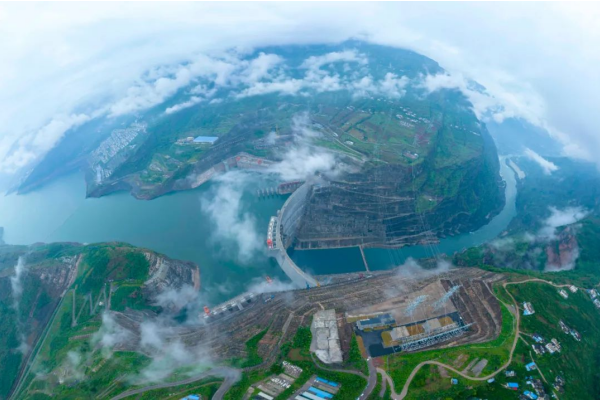 An aerial view of the Baihetan hydropower station [Photo/sasac.gov.cn]
The four cascade hydropower stations of Wudongde, Baihetan, Xiluodu and Xiangjiaba along the Jinsha River, which have 54 hydro-generating units in total, went fully operational and recorded new peaks in load regulation on the morning of Aug 15, with the highest exceeding 41 million kilowatts.
It was also the first time that Xiluodu and Xiangjiaba hydropower stations were simultaneously in full operation this year to meet the rising electricity demand of their beneficiary areas.
Together with the Three Gorges Dam and Gezhouba hydropower stations in the middle section of the Yangtze River, the four cascade hydropower stations on the Jinsha River have jointly formed the world's largest clean energy corridor.
The six mega power stations, all of which are run by Three Gorges Corporation, have a total installed capacity of 71.7 million kilowatts, with 110 hydro-generating units. They can annually generate 300 billion kilowatt-hours of electricity, reducing coal consumption by 90 million metric tons and carbon emissions by more than 240 million tons and meeting the electricity demand of 300 million people in a year.
Under the guidance of Three Gorges Corporation, China Yangtze Power Co., Ltd has further strengthened its hydro-meteorological forecasting, taken dynamic actions to optimize its electricity production plans, and stepped up the operation and maintenance of relevant facilities in a move to fully ensure skyrocketing electricity demand in this summer.
Statistics show that the output of the six hydropower stations exceeded 33 million kilowatts on July 25 and that their daily peak load regulation surpassed one billion kilowatt-hours from Aug 8 to 14. A new high peak load regulation of 60 million kilowatts was set up on Aug 15.
(Executive editor: Xie Yunxiao)