The Al Dhafra PV2 power plant project in the United Arab Emirates (UAE), contracted by China Machinery Engineering Corporation (CMEC), a subsidiary of China National Machinery Industry Corporation (Sinomach), is currently one of the largest individual solar power stations in the world and has a total installed capacity of 2.1 gigawatts. Since completion and entering into operation, the station can meet the electricity demand of about 160,000 households in the UAE, and can reduce more than 3.6 million tons of carbon emissions every year, equivalent to the emissions of 720,000 cars on the road.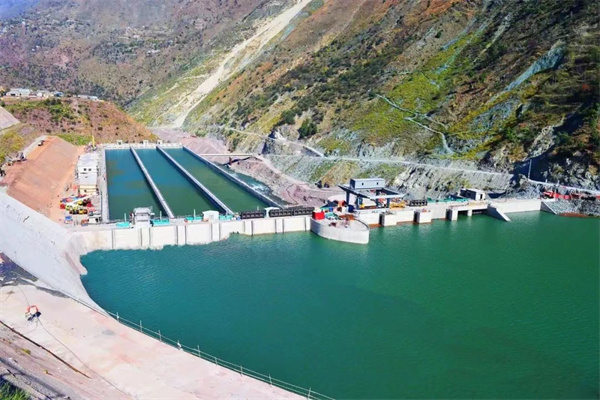 The Neelum-Jhelum hydropower project in Pakistan, dubbed as the Three Gorges project in Pakistan, was contracted by CMEC, and has a total installed capacity of 969 megawatts. The project is designed to generate 5.15 billion kilowatt-hours of electricity annually, accounting for about 12 percent of the energy output of hydropower stations in Pakistan. Since completion, the project has improved Pakistan's energy structure and greatly alleviated local power supply shortages.
The 246MW solar photovoltaic power station project in Nikopol, Ukraine, contracted by CMEC, is the first large-scale ground photovoltaic power station project undertaken by a Chinese contractor in Ukraine. The project has created nearly 2,000 jobs for local people, as well as considerable social and economic benefits. It won the 2020-2021 China Construction Engineering Luban Award for Overseas Projects.

The Zhenqi photovoltaic power plant project in Ningxia Hui Autonomous Region, constructed by China Foma (Group) Co., Ltd., a subsidiary of Sinomach, has a total installed capacity of 30 megawatts and covers an area of around 77.92 hectares. In 2022, the project generated 45.41 million kilowatt-hours of green electric energy, reducing the consumption of standard coal by about 15,000 tons, which is equivalent to reducing carbon emissions by more than 35,000 tons.
The general contracting project of China Resources Power Holdings Co., Ltd. in Zhoushan, Zhejiang Province, contracted by the No. 6 Institute of Project Planning & Research of Machinery Industry, a subsidiary of Sinomach, has an annual production capacity of 12 gigawatts of efficient heterojunction solar cells, which is equivalent to reducing carbon emissions by 14.4 million tons. The efficient heterojunction solar cell is a new type of high-efficiency crystalline silicon solar cell that has significant advantages in efficiency, performance, and carbon emission reduction.
The Bailonggang wastewater treatment plant project in Shanghai, constructed by the SUMEC Group Corporation (SUMEC), a subsidiary of Sinomach, in Jiangsu Province, is one of the last lines of defense for the protection of the Yangtze River. Since the completion of the third phase, the project's sewage processing capacity has reached 3.5 million cubic meters per day, making it a world-class super-large sewage treatment plant. It meets the requirements of the control of waste water flowing into the Yangtze River, and effectively improves the environmental quality of the Yangtze River estuary.
The Chengbei sewage treatment plant project in Pizhou City, Jiangsu Province, constructed by China CAMCE Environmental Technology Co., Ltd. (CEETC), a subsidiary of Sinomach, boasts a service area of 39 square kilometers and a population of about 200,000 people, with an average daily sewage treatment capacity of more than 40,000 tons. It has been operating for over 10 years, and has played an important role in local energy conservation and emission reductions.
The Jiangbei comprehensive waste disposal center, constructed by the SUMEC, in Jiangsu Province, is the first domestic kitchen waste treatment project featuring a complete process system, advanced technology, and high resource utilization. The project's processing capacity of kitchen waste, food waste, and waste cooking oil has hit 500 tons per day, 300 tons per day, and 50 tons per day, respectively.
The Foshan municipal domestic waste recycling treatment and quality improvement project in Guangdong Province, undertaken by China United Engineering Corporation Limited, a subsidiary of Sinomach, is an environmental protection science education base integrating industrial tourism, the circular economy, environmental protection demonstration, science education, and Party building education. The project is designed to process one million tons of domestic waste and 66,700 tons of municipal sludge annually, with an annual power generation of 517 million kilowatt-hours, and a cumulative reduction of 242,400 tons of carbon emissions.
The Xichang kitchen waste treatment project in Sichuan Province, undertaken by CEETC, a subsidiary of Sinomach, under the BOT (Build-Operate-Transfer) model, has improved kitchen waste treatment, ensuring waste is both harmless and recycled, reducing the overall volume of waste. Since it was put into operation, the project has processed more than 19,000 tons of kitchen waste per year, and reduced carbon emissions by about 17,000 tons annually, significantly alleviating the pollution caused by kitchen waste on the urban environment and local water systems.
The Changbai Mountain ecological protection and restoration project, undertaken by China IPPR International Engineering Co., Ltd., a subsidiary of Sinomach, aims for the conservation and restoration of mountains, rivers, forests, farmland, lakes and grasslands in the Changbai Mountains. Tackling comprehensive challenges involving extensive areas, difficult fields, multidisciplinary, and various specialties, the project fulfills 12 performance indicators such as river courses remediation and basin ecology restoration, increasing the area of local forests by 12.26 square kilometers.
The new energy-saving and environment-friendly R32 refrigerant key technology and air conditioning equipment industrialization project, implemented by Hefei General Machinery Research Institute Co., Ltd., a subsidiary of Sinomach, has made breakthroughs in key technologies such as thermodynamic cycle enhancement, safe and reliable application, and enhanced heat transfer with a small diameter. The project has developed a series of air conditioning equipment and related testing devices, promoted the full conversion of R22 air conditioning production lines to R32 air conditioning production lines, and has provided a Chinese solution to fulfill international conventions and promote pollution and carbon reduction in key industries.
The all-electric cleaning and sweeping vehicles and all-electric engineering vehicles developed by YTO Group Corporation, a subsidiary of Sinomach, have an average battery capacity of 340 kilowatt hours, which can replace fuel vehicles of up to 380 horsepower. With over 400 vehicles sold to date, each vehicle works 10 hours a day, 22 days a month, and collectively reduce carbon emission by 23,200 tons annually.
(Executive editor: Xie Yunxiao)