Central Asia has been a key region and an important demonstration area participating in the Belt and Road Initiative.

As a backbone of international infrastructure construction, Power Construction Corporation of China (POWERCHINA) started its development in Central Asia since 1999. Up till now, the company has signed 48 projects valued at about $5.5 billion in the region.
Adhering to the concept of green development and environmental protection, POWERCHINA has provided safe, advanced and green power source to the five Central Asian countries, benefiting local people and contributing to high-quality co-construction of the Belt and Road.
Building capacity cooperation models in Central Asia
With the deep docking of China's BRI and the Bright Road Initiative proposed by Kazakhstan, China-Kazakhstan capacity cooperation has been in rapid development.
The Zhanatas 100-megawatt wind power project contracted by POWERCHINA is the largest of its kind in Central Asia. It has an annual power output of 350 million kilowatt-hours, meeting demand of 1 million households. Its operation is of great significance to improvement of Kazakhstan's energy structure and provides experience to its environmental protection and de-carbonization.
So far, POWERCHINA has signed 23 projects covering water conservancy and hydropower, new energy, road construction and mining industries in the country.
Jointly financed and built by POWERCHINA and Kazakhstan-based Samruk-Energy Company, the Shelek Wind Farm is a vital project under the framework of the BRI and has been selected a key part of China-Kazakhstan capacity cooperation. Its design, construction and engineering were all in line with Chinese standards.
As the first new energy project in Central Asia invested by POWERCHINA, the wind farm was fully put into operation in July 2022 and is capable of generating 230 million kWh of power. It provides stable green power to 70,000 households and greatly improved reliability and independence of the power supply in Almaty Province, a reduction of more than 160,000 metric tons of carbon dioxide emissions.
A view of the Shelek Wind Farm in Kazakhstan [Photo/sasac.gov.cn]
Expanding scope of cooperation and mutual benefits
A ceremony was held on April 25, 2023, to mark completion of the Golovnaya Hydropower Plant in Tajikistan.
The plant was first built during the former Soviet Union period with an original installed capacity of 240 MW. As it has been operating for nearly 60 years, its facility was no longer stable and safe.
In order to meet local people's domestic power demand and the farm land irrigation, POWERCHINA surveyed the plant and made renovations, improving its installed capacity to 270 MW while realizing stable operation of the generator units.
So far, the project has generated more than 3.14 billion kWh of power since it re-opened.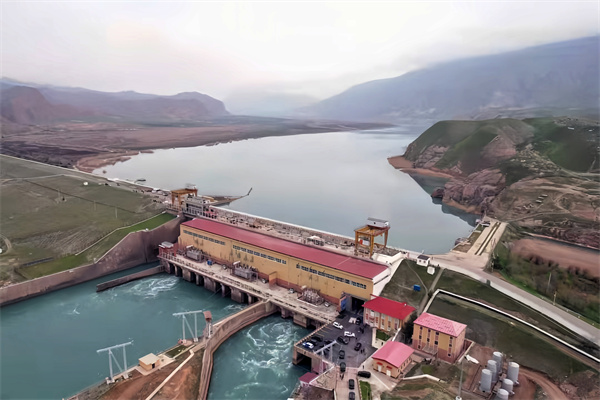 A view of the Golovnaya Hydropower Plant in Tajikistan [Photo/sasac.gov.cn]
POWERCHINA's effort in new energy infrastructure is also seen in other Central Asian countries.
The Nur Navoi 100-MW solar photovoltaic (PV) power station, the first of its kind in Uzbekistan, was put into operation on Aug 27, 2021.
As a major partner for China under the framework of the BRI, Uzbekistan has highly valued and encouraged new energy projects.
A view of the Nur Navoi 100-MW solar PV power station in Uzbekistan [Photo/sasac.gov.cn]
The Nur Navoi PV power station is now capable of generating 278 million kWh of power annually, providing sustainable power for the continuously increasing population and the rapidly developing industry.
As an ancient country in Central Asia, Kyrgyzstan is now a key hub along the Belt and Road.
The Bishkek-Naryn-Torugart Highway is an artery linking China and Kyrgystan. It plays a key role in travel and economic development. Adopted advanced management ideas and modes, POWERCHINA renovated about 155 kilometers of the highway, supporting economic development in affected areas and bridging friendship between the two countries.
Fulfilling social responsibilities
In addition to various kinds of infrastructure contributions in Central Asia, POWERCHINA also highly values fulfilling social responsibilities in the region.
For example, in Tajikistan, the company donated and built three schools, with about 2,600 pupils getting an education.
A view of one of the three schools built by POWERCHINA in Tajikistan [Photo/sasac.gov.cn]
At the same time, the company has also helped cultivate many local engineering technical talents and provided nearly 10,000 jobs for local people during construction and operation of the project.
The renovation project of the three hydropower stations in Uzbekistan pushed forward China-Uzbekistan cooperation in hydropower field. Thanks to the project, the old stations now have great improvements in generation output, which greatly relieved power shortage in affected areas.
It's worth noting that during the construction of the project, more than 70 percent of workers were local people.
POWERCHINA also signed a Memorandum of Understanding (MoU) with Tashkent Institute of Irrigation and Agricultural Mechanization Engineers, funding several Uzbekistani students to study hydroelectric knowledge in China.
Environmental protection was also highlighted by POWERCHINA during construction of the projects.
For instance, the 274-kilometer power transmission line between the Syrdarya power station and the Zafarabad district, Jizzakh region in Uzbekistan, is an inevitable passage for migration of nearly 20 kinds of birds, including some endangered and rare species.
To protect the birds from the high-voltage power lines, POWERCHINA invited bird experts and installed special devices to warn birds to get away from the dangerous power lines.
POWERCHINA's project departments have also become supply depots in some desert and Gobi areas.
The Kyzylorda-Zhezkazgan Road stretches through vast Gobi area and POWERCHINA's camp has played a key role in providing water and some repair service for local herdsmen and passers-by.
POWERCHINA's project department built three wells in the dry area, which are important water sources for local people and the workers. Meanwhile, the project department also recruited local doctors and professional repairmen. So far, the camp has carried out 11 rescues in affected areas.
POWERCHINA has been devoted to generating clean power while protecting the environment. It is in full swing in building a new chapter of China-Central Asia relationship and contributes Chinese wisdom, solutions and efforts to the green transformation of the global economy.
(Executive editor: Xie Yunxiao)