Construction of the overhead lines of the entire Jakarta-Bandung high-speed railway was completed recently.

China Railway Electrification Engineering Group Co., Ltd., a subsidiary of China Railway Group Limited (CREC), is responsible for the project.
The overhead lines are built over the railway and are the artery to transmit power for the high-speed railway. Their engineering impacts the operation speed, security and stability of the high-speed trains.
The overhead lines of the Jakarta-Bandung high-speed railway were built with a constant tension cable unrolling vehicle which adopts digital control and man-machine interactive systems, making operation easier and faster while guaranteeing engineering quality and efficiency.
Linking Jakarta, the capital city, and Bandung, the fourth-largest city in the country, the Jakarta-Bandung high-speed railway has a total length of 142 kilometers and a designed speed of 350 kilometers per hour. It is a practical result of cooperation between China and Indonesia and an iconic project under the framework of the Belt and Road Initiative (BRI).
Once operational, it is expected to shorten travel time between the two cities to 40 minutes.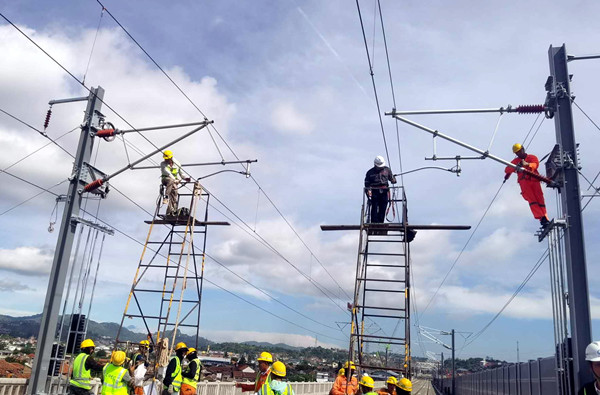 A view of professional static acceptance of the overhead lines of the Jakarta-Bandung high-speed railway [Photo/sasac.gov.cn]
A view of the installation of the overhead lines of the Jakarta-Bandung high-speed railway [Photo/sasac.gov.cn]
(Executive editor: Xie Yunxiao)