The 800-megawatt Al Kharsaah photovoltaic (PV) power station in Qatar was put into operation on Oct 18.

Generally contracted by Power Construction Corporation of China (POWERCHINA), the station is the first non-fossil fuel power station in the country and one of the largest PV power stations in the Middle East.
It is expected to provide about 1.8 billion kilowatt-hours of clean power annually for the country, meeting domestic demands of about 300,000 households. It will help eliminate about 900,000 metric tons of carbon dioxide emissions annually, which will be of great significance to the country's new energy development.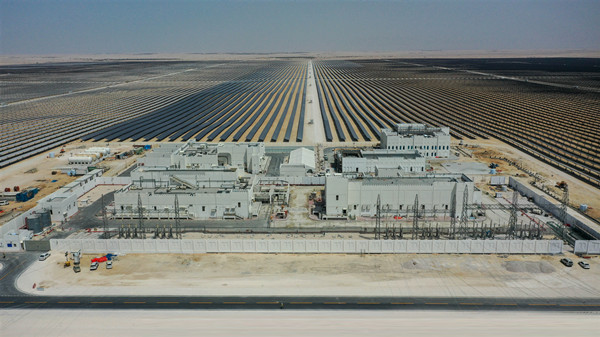 A bird's-eye view of the 800-megawatt Al Kharsaah photovoltaic power station in Qatar [Photo/sasac.gov.cn]
Located 80 kilometers west of Doha, the capital city, the Al Kharsaah PV power station covers an area of 10 square kilometers and is equipped with more than two million solar panels, giving full play to local solar resources. It is currently the third-largest individual PV power generation project in the world and the largest of its kind in the world that adopts a tracing system and double-faced components.
Construction of the project started in July 2020. During construction, POWERCHINA adhered to green engineering and made detailed plans to protect local plants and wild animals.
As a part of the Qatar 2030 National Vision, the power station is expected to meet 10 percent of the country's peak electricity demand. It will play a key role in improving the proportion of renewable energy in the country's energy consumption and reducing carbon dioxide emissions.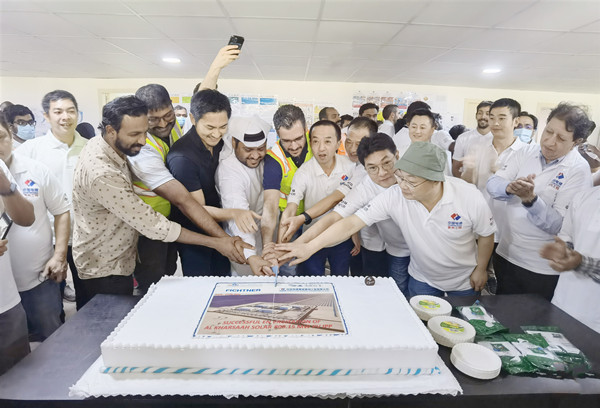 Chinese and Qatari staff members celebrate operation of the Al Kharsaah photovoltaic power station. [Photo/sasac.gov.cn]
(Executive editor: Wang Ruoting)