Located between the Tongluo and Mingyue mountains, Guangyang Island in Southwest China's Chongqing Municipality sits on the golden section of the trunk stream of the Yangtze River.

Covering an area of about 10 square kilometers during the dry season, the island is the largest of its kind on the upstream of the river and has a unique river landscape. It forms a natural ecological resource in Chongqing.
In September 2018, China Architecture Design & Research Group, a subsidiary of China Construction Technology Consulting Co., Ltd. (CCTC), started the ecological restoration of the island. After nearly four years of efforts, the island regained blue skies and starry nights, clean water and green banks, as well as flourishing forests and twittering birds. A scroll painting showing harmony between humanity and nature was completed and promoted to the world.
Adhering to the principle of placing conservation and protection first with natural recovery as the core, the restoration team built a Yangtze River viewpoint and the Chongqing ecology island, intending to realize harmonious development.
The team adopted the key innovative ecological restoration technology and developed reproducible and transferable standards, guidance, instructions and patents in the field.
The mountains, rivers, forest, farmland, lakes, grassland and the roads on the island have been categorized for restoration with different technologies and in different patterns.
The team also innovated the mode and management of the restoration.
After four years of natural recovery and ecological restoration, the tailings ponds, side slopes, lakes and pools, terraced fields, forestry and galleries on Guangyang Island have been restored and the eco-system has been completed. At present, the natural recovery area of the island reaches 67 percent with more than 500 kinds of plants. The rich food chain and diversified habitats have attracted over 450 kinds of animals.
The island has become a brand of Chongqing as a model of ecological protection and green development.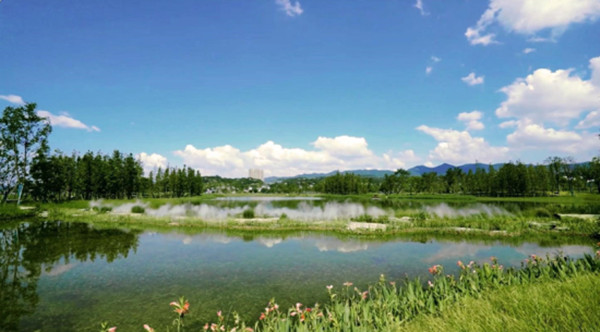 A view of Guangyang Island in Southwest China's Chongqing Municipality [Photo/sasac.gov.cn]
(Executive editor: Wang Ruoting)