China National Petroleum Corporation (CNPC)'s subsidiary in Southwest China's Sichuan Province has been making efforts to consolidate the region's rural vitalization achievements in livelihoods, industrial development, economic growth, education and environmental protection.

On an early autumn day on the western Sichuan areas of the Qinghai-Tibet Plateau at an altitude of 3,400 meters, Hu Peng, a staff member of CNPC Sichuan company, was busy clearing weeds and inspecting growth of the vegetables with residents of Bigang Village, of Ruoergai County in Aba Tibetan and Qiang Autonomous Prefecture.
He said that the plateau organic vegetable planting base covering more than 300 mu (20 hectares) was invested and built by CNPC in Sichuan. He added that the cauliflowers, carrots and coriander grown in the base are sold through CNPC's smart phone application and at its gas station convenience stores, and that each mu of the vegetables is anticipated to bring about 3,000 yuan (about $430) of income to the growers.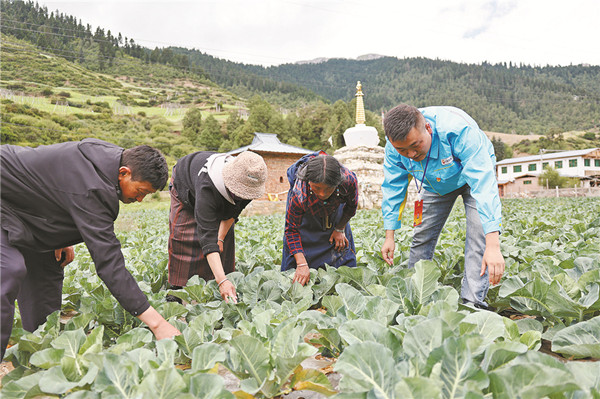 Hu Peng (R1), a staff member of the CNPC Sichuan company who was sent to Bigang Village of Aba Tibetan and Qiang Autonomous Prefecture, clears weeds and inspects growth of the vegetables with villagers. [Photo/sasac.gov.cn]
Hu helps villagers harvest highland barley in Bigang. [Photo/sasac.gov.cn]
Since 2016, CNPC in Sichuan has provided more than 4 million yuan to Ruoergai and has built several industrial projects related to tourism service center, pig farming and vegetable planting, etc.
In addition to contributions to the planting and farming bases, CNPC in Sichuan has been playing a key role in employment, education, agriculture marketing and environmental protection in affected areas.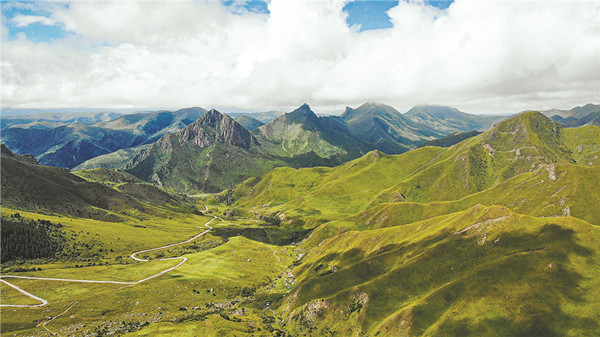 Responding to the natural views in Ruoergai County, CNPC in Sichuan has invested and built a series of tourism facilities including a service center and pathways, boosting local rural vitalization. [Photo/sasac.gov.cn]
At the Hongguang gas station of CNPC's Minjiang subsidiary, Ru Ka, a Tibetan man, is seen welcoming visitors. He started to work at the gas station three years ago thanks to the company's employment chance and is now working as the comprehensive manager at the station.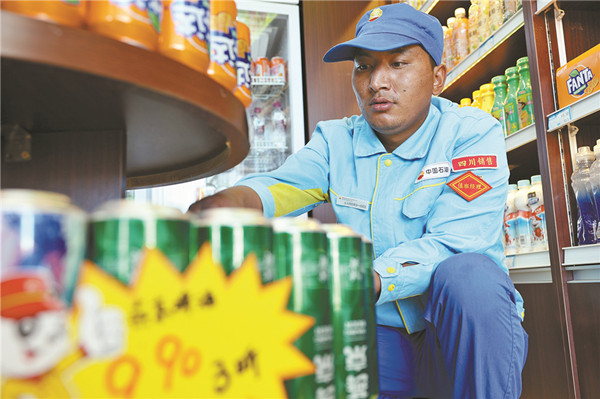 Ru Ka works at the Hongguang gas station. [Photo/sasac.gov.cn]
Improving education in rural areas has been a highlight in China. CNPC's staff members sent to Aba publicized the importance of education in the area and talked with villagers door to door, encouraging them to send their children for schooling.
In terms of environmental protection, the company removed its gas stations in natural reserves to other places, built environmentally-friendly toilets and promoted oil and gas recycling and pollutant treatment systems in recent years. It also intends to build a highland ecological environmentally-friendly gas station.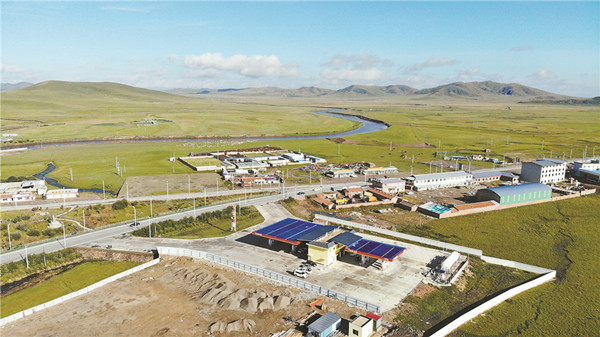 CNPC's Ruoergai gas station is equipped with various environmentally-friendly facilities. The company is developing a liquefied natural gas business with support for environmental protection in affected areas. [Photo/sasac.gov.cn]
(Executive editor: Wang Ruoting)