The Shenzhen-Zhongshan Bridge in South China's Guangdong Province is a key national project and a new landmark in the Guangdong-Hong Kong-Macao Greater Bay Area.

With a total length of 24 kilometers, the project integrates construction of tunnels, bridges and underwater sections. The immersed tube section is 5,035 meters and consists of 32 80,000-metric-ton tubes and a terminal joint.
It is the world's first large-scale use of a cased concrete immersed tube tunnel structure and the installation of the tubes is the key to the on-schedule operation of the project.
CCCC First Harbor Engineering Company Ltd, a subsidiary of China Communications Construction Company Limited (CCCC), was responsible for the construction.
The tubes are transported to the installation site and ready to be immersed. [Photo/sasac.gov.cn]
Dating back to a year ago, builders went through an arduous path to install the E9 tube.
Sun Haifeng, a measurer at the project, recalled that the transfixion surveying result showed that the tube was 15.2 millimeters south from the targeted position but the measuring tower system showed that it was 25 millimeters north from the targeted place.
"The great difference would be a huge potential risk to immersed tube docking which calls for millimeter-level precision," Sun said.
By comparing the data, the technical group found that the cased tubes would deform due to the water pressure at different depth, leading to an offset of the measuring towers installed on the two sides of the tube and creating the measurement difference.
Keeping in mind the special space structure of the immersed tubes, the project team came up with a solution based on a visual system to realize real-time accurate observation of the tubes while they are being immersed.
Suo Xuhong, vice-director at the tube measurement center, explained that a highly-accurate attitude sensor is installed at each deformation part of the tube and a real-time warning is given whenever there is a deformation offset. Operators can amend positioning according to the warning message, which improves accuracy and reliability of the measurement system during tube installation.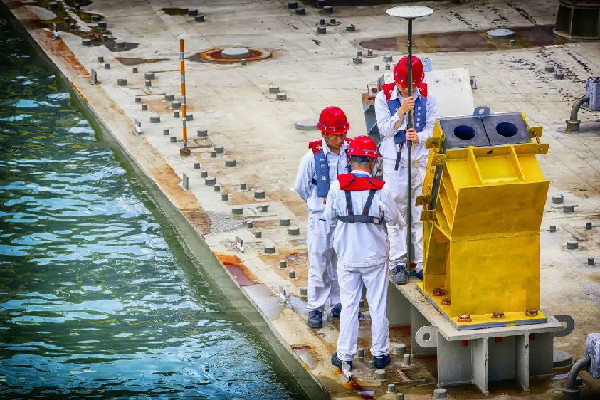 Measurers inspect the positioning system. [Photo/sasac.gov.cn]
In addition to the accurate data, deformation of the tubes can also cause a chain effect on other processes. Therefore, relative solutions to guarantee a whole-process accurate installation of the tubes were also improved.
A month later, the E10 and E9 tubes were accurately docked thanks to the improved technologies.
So far, the technologies have allowed accurate docking of six tubes and the entire docking mission is expected to be completed within this year.
Technicians command the immersing of the tubes at the control center. [Photo/sasac.gov.cn]
(Executive editor: Wang Ruoting)