China National Offshore Oil Corporation (CNOOC) recently announced that the Jinzhou 25-1 oilfield has gained a total output of more than 20 million metric tons and provided nearly 4 billion cubic meters of natural gas to the Circum-Bohai Sea region since it went into operation in 2009.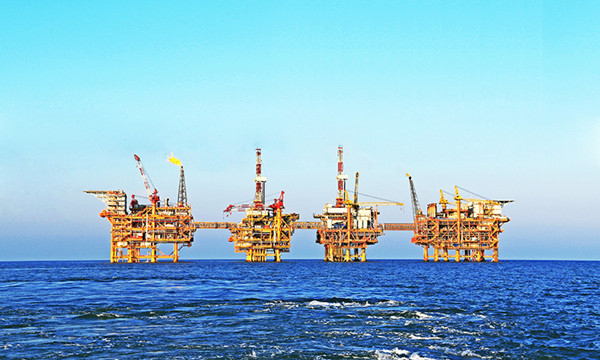 A view of the joint platform in Jinzhou 25-1 oilfield in Bohai Bay [Photo/sasac.gov.cn]
Located in Central Liaodong Bay of the Bohai Sea, Jinzhou 25-1 oilfield is Asia's largest joint offshore platform and also the largest offshore crude and natural gas pipeline dispatching hub in North China, playing a key role in guaranteeing the national energy security and power supply in North China regions.
According to CNOOC's Tianjin branch, the platform consists of two central gathering and transportation treatment platforms and two well production platforms which are linked by trestle bridges. The total deck area is about 30,600 square meters, equaling that of 4.5 football pitches. It would take about two hours to complete an inspection of the entire offshore platform.
A close view of the joint platform in Jinzhou 25-1 oilfield in Bohai Bay [Photo/sasac.gov.cn]
A CNOOC staff member conducts ship berthing operation on the platform. [Photo/sasac.gov.cn]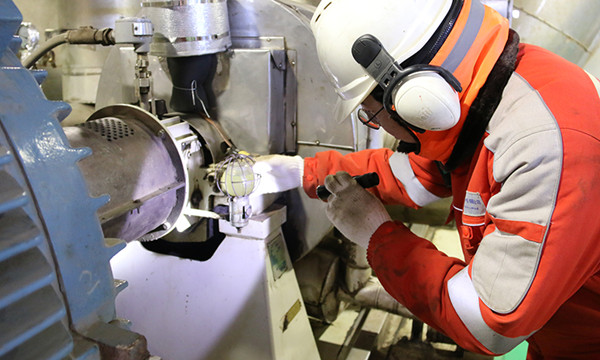 A CNOOC technician inspects the equipment on the platform. [Photo/sasac.gov.cn]
(Executive editor: Niu Yilin)