The Tianjin liquefied natural gas (LNG) receiving station of China Petrochemical Corporation (Sinopec Group) welcomed the arrival of Al Mafyar, a Q-MAX LNG carrier, from Qatar on Nov 10.
It was the 100th LNG carrier to be unloaded at the station this year.
The Q-MAX LNG carrier is the world's largest of its kind equipped with the most advanced facilities. It can carry as much as 160 million cubic meters of natural gas and there are only 14 such carriers in operation now in the world.
An aerail view of the Al Mafyar, a Q-MAX LNG carrier newly arrived from Qatar and berthed at the Tianjin LNG receiving station [Photo/sasac.gov.cn]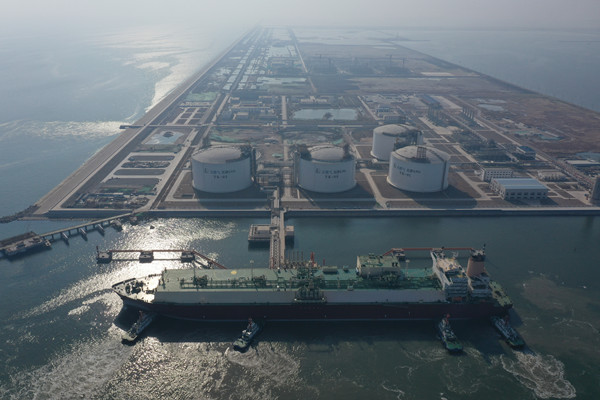 Al Mafyar, the world's largest LNG carrier, arrives at the Tianjin LNG receiving station on Nov 10. [Photo/sasac.gov.cn]
(Executive editor: Wang Ruoting)