Ren Hongbin, Vice Chairman of the State-owned Assets Supervision and Administration Commission of the State Council (SASAC) and head of the trading group of central state-owned enterprises (SOEs), attended the 3rd China International Import Expo (CIIE) in Shanghai on Nov. 4 and 5, 2020. Ren listened to the keynote speech delivered by Chinese President Xi Jinping via video at the opening ceremony of the 3rd CIIE, visited some exhibition zones whose exhibitors were invited by central SOEs and some private enterprises, as well as some exhibition booths of multinational companies, and held talks with business representatives.
Ren Hongbin, Vice Chairman of the State-owned Assets Supervision and Administration Commission of the State Council, shakes hands with a business representative at the 3rd China International Import Expo in Shanghai. [Photo/sasac.gov.cn]
Ren said that the keynote speech made by President Xi has provided guidance to central SOEs on creating new advantages in promoting international cooperation and creating new competitive advantages as they pursue high-level opening-up in the new stage of development. Central SOEs are studying and acting on the spirit of the Fifth Plenary Session of the 19th Communist Party of China Central Committee, earnestly acting on the new development philosophy and high-quality development requirements, acting proactively in the building of new development patterns, leveraging their advantages, contributing to turning the China market into a market for the world, a market shared by all, and a market accessible to all, and promoting the building of a community with a shared future for mankind.
Ren pointed out that central SOEs should make full use of the CIIE and other major opening-up platforms to promote industrial coordination in the world, strengthen their capacity in the promotion of domestic circulation and coordinated development between domestic and international markets, take multiple measures to stabilize, complement and consolidate industrial chains, and safeguard the industrial and supply chains featuring the international public good.
Meanwhile, he urged central SOEs to improve comprehensive opening-up and cooperation, leverage the strengths of China's mega-sized markets and the huge potential of domestic demand as well as prioritize the Belt and Road construction to boost their attractiveness in "bringing in" and competitiveness in "going global". The central SOEs should strengthen benchmarking against the world-class, enhance their development quality and efficiency, and consolidate their capacity-building in the fields of innovation-oriented research and development, corporate management, global presence and risk management.
Moreover, they should build a closer partnership with private enterprises, promote coordinated development between upstream and downstream enterprises and between large and small and medium-sized enterprises, pursue complementarity and common development among all market players, and work with joint efforts to contribute to the building new development patterns.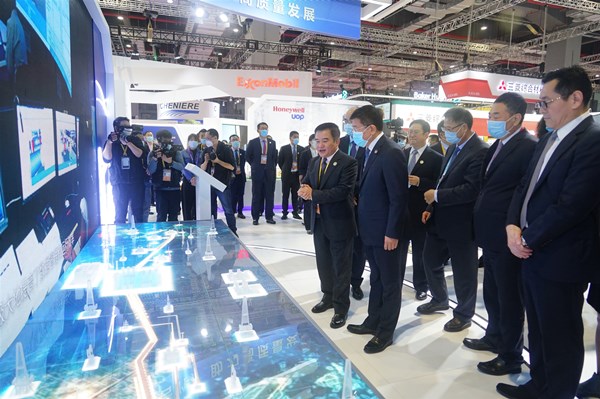 Ren Hongbin, Vice Chairman of the State-owned Assets Supervision and Administration Commission of the State Council, visits an exhibition booth at the 3rd China International Import Expo in Shanghai. [Photo/sasac.gov.cn]
(Executive editor: Hao Wen)