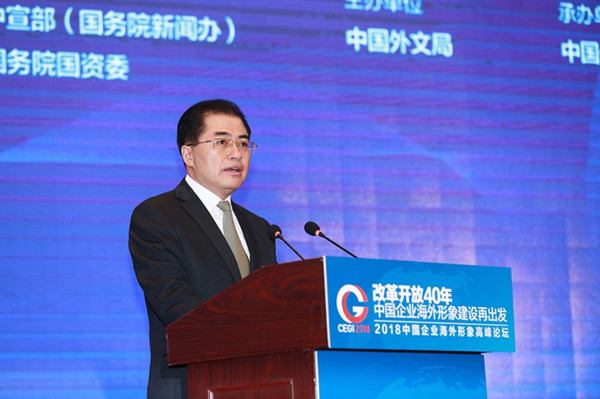 SASAC Vice Chairman Weng Jieming addresses the Chinese Enterprise Global Image Summit 2018 in Beijing on Dec 12. [Photo/sasac.gov.cn]
Weng Jieming, Vice Chairman of the State-owned Assets Supervision and Administration Commission of the State Council (SASAC), attended and made a speech at the Chinese Enterprise Global Image Summit 2018, which was hosted by China Foreign Languages Publishing Administration with the guidance of the Publicity Department of the CPC Central Committee (the State Council Information Office) and SASAC in Beijing on Dec 12.
Since the 18th CPC National Congress, Chinese central state-owned enterprises (SOEs) have been vigorously strengthening their international communication capacity in going global and have had excellent results in building a good global image, telling the stories of China and making China heard wherever they participate in Belt and Road construction, Weng said.
Weng stressed that Chinese central SOEs must implement Xi Jinping's Thought on Socialism with Chinese Characteristics for a New Era, carry out the spirit of General Secretary Xi Jinping's speech at a national conference on publicity , and focus on the "five synchronizations" guideline to become world-class enterprises with a first-class global image.
According to his explanation on the "five synchronizations" guideline, Chinese central SOEs should insist on synchronizing the plans, building and promoting of their corporate image from the perspective of establishing and promoting a national image, adhere to the principle of consultation, mutual building and sharing, materialize the concept of win-win cooperation in every business activity and every cooperation project, and convey the profound meaning of building a community of shared destiny for humankind.
Chinese central SOEs should upgrade their economic strength and cultural soft power synchronously, abide by the laws and regulations of the host country, respect local cultures, integrate into local development, improve people's livelihoods, fulfill social responsibilities, and create a good image of compliance, openness, inclusiveness, cooperation, high quality and efficiency and harmonious coexistence, he added.
He urged that efforts should be made to synchronously strengthen positive publicity and control of risk, to deepen cooperation with the mainstream media, well-known think tanks, international organizations and public relations companies in the host country, to join trade associations and chambers of commerce with greater international influence, to improve the public opinion collection and analysis system, to initiatively respond to the concerns of all parties, and to give full play to the advantages of joint efforts.
Weng said that Chinese central SOEs should insist on exploring the advantages of traditional and emerging media synchronously, give full play to key domestic media, actively contact Western mainstream media and influential local media, make good use of overseas social media platforms, actively make their voices heard and expand their influence on the Internet.
Content and expressions must be improved synchronously as well, he said, adding that discovering and telling the stories of Chinese central SOEs well, and then using a more favorable way that can be better accepted by locals to tell stories can act as a bridge for communication and resonance, Weng added.
About 300 representatives from Chinese central SOEs, local SOEs, private enterprises, think tanks and mainstream media attended the summit.
(Executive editor: Li Shuling)