Shen Ying, Vice Chairman of the State-owned Assets Supervision and Administration Commission of the State Council (SASAC), met with a delegation led by Hong Kong Financial Secretary Paul Chan Mo-po on Nov 20.
Shen mentioned that President Xi Jinping stressed the uniqueness and irreplaceable nature of Hong Kong and Macao special administrative regions (SARs) in the nation's reform and opening-up when he met with members of delegations from the two SARs during their visit to Beijing to join in celebrations marking the 40th anniversary of the nation's reform and opening-up.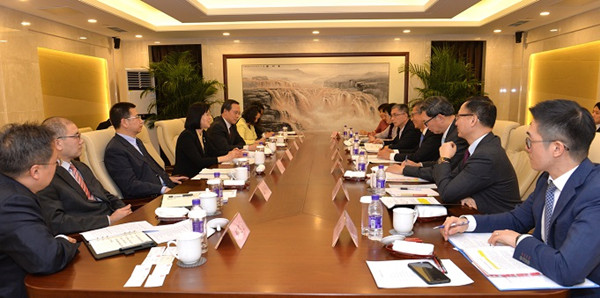 Shen Ying meets with Hong Kong Financial Secretary Paul Chan Mo-po on Nov 20. [Photo/sasac.gov.cn]
She said President Xi's remarks have put forward new requirements and given new impetus to further cooperation between central state-owned enterprises (SOEs) and Hong Kong, adding that central SOEs are studying and responding actively.
"Hong Kong is an international financial, shipping and trade center with advantages of extensive international contacts and developed professional services," Shen said, adding that, for a long time, central SOEs have carried out extensive economic and trade cooperation with the government and enterprises of the HK SAR, focusing on "the needs of the State" and "the advantages of Hong Kong".
She noted that cooperation between the two sides not only expanded the broad market space for central SOEs' development, but also made positive contributions to Hong Kong's economic development, improvement of people's livelihoods and integration into the overall situation of national development.
SASAC is willing to further strengthen exchanges with the HK SAR government, innovate the mode of cooperation, push cooperation to a higher level, and work together to achieve complementary development and win-win results in the implementation of Belt and Road Initiative (BRI), Shen added.
Chan and his delegation introduced Hong Kong's advantages in infrastructure project financing, cross-border fund management, professional insurance services and green bond issuance, expressing their hope to further deepen cooperation with SASAC and central SOEs, to give full play to Hong Kong's role as an international financing platform and expertise in finance, accounting, law and consulting, and to support and join hands with central SOEs to better participate in the BRI.
(Executive editor: Hao Wen)