The launch ceremony of the China-built Djibouti International Free Trade Zone (DIFTZ) was held on July 5, 2018.
The project, which carries forward the African people's yearning for a better future and mirrors the Chinese people's pursuit of win-win results in implementing the Belt and Road Initiative, was invested and built by China Merchants Group (CMG).
Togo port
It is also CMG's landmark project in implementing its cooperation and win-win concept.
Africa is not only an important part of the ancient Silk Road, but also a natural extension of today's Belt and Road Initiative.
A world-leading port service provider, CMG has invested 53 ports in 20 countries and regions, such as the Lome Port in Togo, Djibouti Port and the Lagos Port in Nigeria.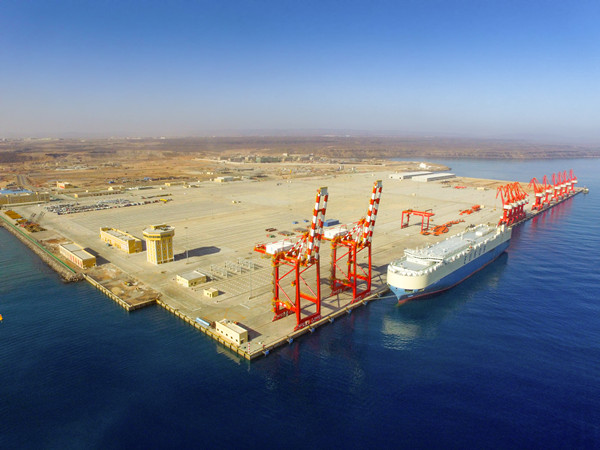 Doraleh multifunctional port in Djibouti
With the participation of CMG, ports operations and local trade facilitation have been greatly improved.
CMG has also applied its experience and practice in developing ports, especially the Shekou Free Trade Area, to enhance local economies.
In Djibouti, CMG joined hands with the local government to build a modern port and an industrial park. Meanwhile, it developed office buildings and hotels as well as commercial and tourist facilities in outdated port areas.
Lagos port, Nigeria
This is a "Port-Park-City" (PPC) mode based on CMG's own experience of developing Shekou over the past 40 years. CMG will expand the mode to more African countries like Togo and Tanzania and share the fruit of China's economic growth with African people.
Djibouti President Ismail Omar Guelleh, Abiy Ahmed, the Prime Minister of Ethiopia; Paul Kagame, the President of Rwanda; Mohamed Abdullahi Mohamed (Farmajo), the President of Somalia; Omar Hassan Ahmad al-Bashir, the President of Sudan; and Moussa Faki Mahamat, the Chairperson of the African Union Commission were present at the ceremony.
The first phase of CMG-led DIFTZ, a 2.4-sq km area, is launched on July 5, 2018.
(Executive editor: Hao Wen)