Hao Peng, Secretary of the Party Committee of the State-owned Assets Supervision and Administration Commission of the State Council, PRC (SASAC), had a working luncheon with Uri Ariel, Israeli Minister of Agriculture and Rural Development, as well as other Israeli officials and senior executives of Israeli sci-tech enterprises during an inspection visit to the branches of Chinese central SOEs in Israel on Aug 1.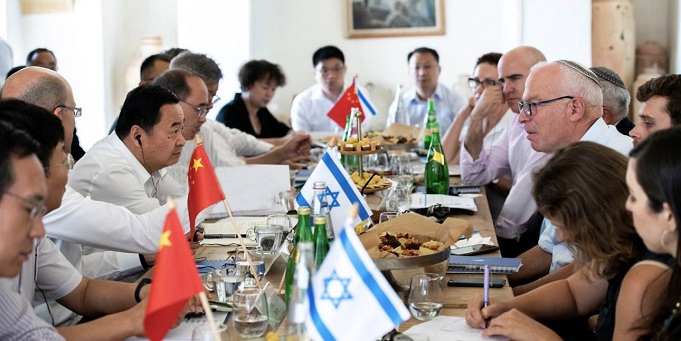 At the working luncheon, Hao Peng listened to the briefing made by the senior executives on the innovative technologies of Israeli sci-tech enterprises like Agrint.
After extending his welcome to Hao and his delegation, Ariel exchanged ideas with Hao on strengthening cooperation between the two countries on innovative agricultural projects.
Ariel said he hoped that Chinese enterprises, and in particular Chinese central SOEs, will boost their cooperation with Israeli enterprises, unleash the potential for mutual benefit based on complementary advantages, and join hands to realize common development.
Hao appreciated Israeli companies' innovative technological capacity and the achievements they had made.
Israel's outstanding innovation in high-tech products and advanced business models in various fields have promoted rapid development of the country's economy and society, and provide good references for Chinese central SOEs' transformation and upgrading, Hao noted.
He briefly introduced SASAC and Chinese central SOEs, adding that he hoped Chinese and Israeli enterprises will enhance communication and promote innovation, entrepreneurship and partnership through pragmatic cooperation, steadily promote the major projects of each other, and expand the depth and width of cooperation under the Belt and Road Initiative.
Hao gets a closer look at a device during his tour in Israel on Aug 1. [Photo/sasac.gov.cn]
Israeli sci-tech firms, including Agrint, SupPlant and Tactical Robotics, introduced their innovative technologies at the luncheon.
Wu Bin, Commercial Counselor of the Chinese embassy in Israel, as well as representatives of several Chinese central SOEs such as China National Chemical Corp, Power Construction Corporation of China and China Railway Construction Corporation Ltd also attended the event, as did related SASAC officials.
(Executive editor: Hao Wen)