On January 19, Hao Peng, Party Secretary of SASAC CPC Committee, met with Leon Jooste, Minister of Public Enterprises, Namibia.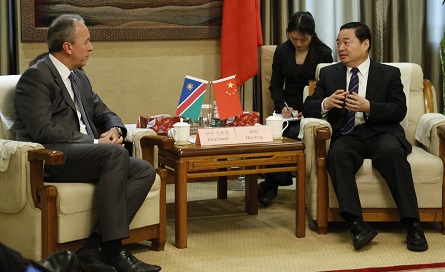 Hao Peng made a general introduction of SASAC, central SOEs and their international operation, and elaborated on the basic principles on comprehensively deepening SOE reform. He said that SASAC will follow the consensus reached by Chinese President Xi Jinping and Namibian President Hage Geingob, and proactively promote the cooperation between SOEs of the two sides in sectors such as infrastructure, mining and energy. He hoped that the two sides could enhance exchanges, establish mechanisms and platforms for long-term cooperation and communication, strengthen pragmatic cooperation, and eventually transform friendship into tangible results.
Mr. Jooste briefed on the functions of Namibian Ministry of Public Enterprises. He said that Namibian Government is very interested in the development of Chinese SOEs, wants to learn from China's experience on SOE reform, and wishes to enhance communication and cooperation with SASAC.
After the meeting, senior officials from various bureaus of SASAC made presentations on Chinese SOE reform & supervision and administration model, state-owned economy layout and structure, modern corporate system, performance evaluation and remuneration, and personnel selection and appointment.
On behalf of Hao Peng, SASAC Vice Chairman Wang Wenbin hosted a welcome dinner for Namibian delegation.