Centrally administered SOEs in the country's northeastern region have moved substantially to accelerate mixed-ownership reform and make significant breakthroughs in key business areas..

Read More

Conglomerate to focus on engineering, tech, finance to broaden its prospects.

Read More

China will promptly implement the nation's three-year action plan for SOE reforms, with 70 percent of the goals completed by the end of this year.

Read More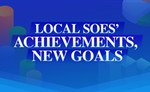 The State-owned Assets Supervision and Administration Commission of the State Council (SASAC) held an online conference to summarize SOEs' achievements in 2020 and during the 13th Five-Year Plan (2016-20) and to set new goals in 2021 and the 14th Five-Year Plan (2021-25).