China will promptly implement the nation's three-year action plan for SOE reforms, with 70 percent of the goals completed by the end of this year.

Read More

China's centrally-administered State-owned enterprises (SOEs) spent more on research and development (R&D) in 2020 amid efforts to boost innovation-driven development, according to the country's State-asset regulator.

Read More

​The year 2020 kicked off the three-year action plan for state-owned enterprises (2020-22) with new achievements and highlights.

Read More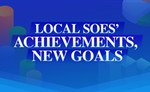 The State-owned Assets Supervision and Administration Commission of the State Council (SASAC) held an online conference to summarize SOEs' achievements in 2020 and during the 13th Five-Year Plan (2016-20) and to set new goals in 2021 and the 14th Five-Year Plan (2021-25).